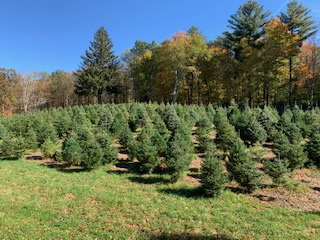 TYPE : Choose & Harvest Farm
SAW PROVIDED : Yes – Helpers will cut your tree or you can cut your own.
TREE WRAPPING AVAILABLE : Yes, No Charge
HARVEST-YOUR-OWN-TREES : Fraser/Concolor Fir, Spruce and White Pine to 7/8 feet with a limited selection of 9/10 foot Spruce/Concolor Fir ($69). Starting Thursday, Dec 8th will have a limited selection of precut trees- mostly spruce ($19). Price includes sales tax.
Bees, Fleas & Trees
551 South Plains
Litchfield, CT 06759
DIRECTIONS : Route 63 – 1.5 miles South of Litchfield on the Left or 2.6 miles North of East Morris on the Right
SHOP :
Tree stands and our own honey are for sale.
Complimentary Hot Cocoa!

CASH/CHECK only.