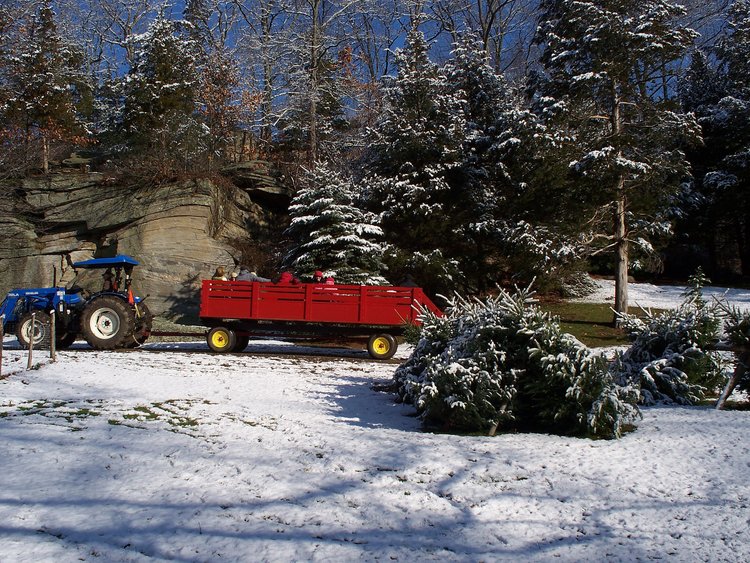 TYPE : Choose & Harvest Farm
SAW PROVIDED : Yes, along with tree carts and tree drilling – pin stands available
TREE WRAPPING AVAILABLE : Yes, No Charge
GIFT SHOP : Yes
Ornaments, Bows, Wreaths, Tree stands, and Waterers
TRACTOR RIDES : Yes, free for the Christmas season
HARVEST-YOUR-OWN-TREES : Norway Spruce; Blue Spruce; White Pine; Serbian Spruce; Canaan Fir; Fraser Fir
Cedar Ledge Tree Farm
260 Coventry Road
Mansfield, CT 06250
DIRECTIONS :
From Willimantic
Route 32 North, 3rd right past Mansfield Drive In

From Route 44
Route 32 South from JCT Route 275 2nd left.
FEATURES :
Ken, Mindy and family invite you to enjoy a special Christmas experience, choosing your tree from our terraced Christmas tree plantation featuring large granite ledge outcrops with scenic views at every turn. Complimentary Hot Chocolate and Coloring Books. Tree Shaking at No Charge. We accept most major credit cards.
See our Web Site for more information:  www.cedarledgetreefarm.com.