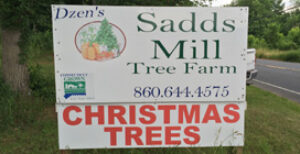 TYPE : Choose & Harvest by Reservation Only
TREE WRAPPING AVAILABLE : Yes, Free
GIFT SHOP: Yes – Within 3 miles of each location at 187 Windsorville Road, Dzen Garden Market.
With tree stands, Pre-cut tree listed below, Kissing Balls, Decorated Fresh and Artifical Wreaths, Cemetery Pots, Poinsettias, Bows, Fresh Garland and much more.
HARVEST-YOUR-OWN-TREES : Fraser Fir; Balsam Fir
Dzen Farms
20 Sadds Mill Road
Ellington, CT 06029
FEATURES :
Easy access with ample parking near the trees. Pets allowed with leash. Cash or check accepted. Tree up tp 9 feet. Twine available to secure tree to vehicle.
Visit our Web Site @ www.dzenfarms.com for more information.